Water Facts! Did you know...
PDF version
Quick hitting facts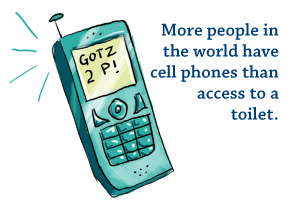 Every 20 seconds a child dies from a water-related disease.
890 million people lack access to safe water.
2.5 billion people don't have a toilet.
$25 brings one person clean water for life.
Over 200 million hours of labor each day are consumed each day to collect water.
The majority of the world's illness is caused by fecal matter.
More people on earth have cell phones than toilets.
Source:
http://water.org/2010/10/blog-action-day/